Are you a nonprofit?
---
Pin-ups on Tour is produced by Do Right Industries - an event company dedicated to creating Entertainment with Purpose. We are not a nonprofit organization but we do partner with Veterans Groups and Charities across America. Since we first started entertaining veterans in 2015, Pin-Ups on Tour has performed in 46 states, donated over 3500 tickets back to our military heroes, and has been able to entertain close to 3300 Active Duty & Veteran Service Members in our nations VA Hospitals! In these past few years we have donated over $50,000 in free veteran tickets and monetary donations to non-profits such as AmVets, Heels for Combat Boots, Recon Sniper Foundation, Pin-Ups for Vets, American Legion posts, Grow For Vets and VFW posts. If you would like to learn more about Do Right Industries please visit www.dorightind.com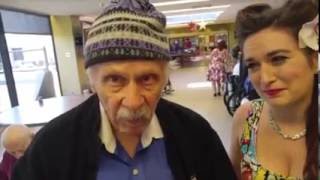 ---
What is the diffrence between GENERAL ADMISSION, RESERVED and VIP tickets?
---
GENERAL ADMISSION tickets are possible standing room only. RESERVED tickets are guaranteed seating. Reserved Seating is assigned on arrival. VIP tickets are very limited & are reserved by name in the first few rows. VIP seats are assigned in advance. For any special seating requests, please email events@pinupsontour.com
---
How do people dress for a Pin-Ups on Tour Show?
---
Vintage Attire is always encouraged. Here are some amazing vintage-inspired designers who have supported our work: Voo Doo Vixen Pin-Up Girl Clothing Mod Cloth Apricity Heart of Haute
---
How do the no-cost Military Appreciation tickets work?
---
Veterans and active duty Military can attend our events for free. We do ask that you RSVP for your ticket. We do honor these tickets at the door provided the event is not sold out. All military appreciation tickets are upgraded automatically when ordered with Reserved or VIP tickets.
---
I want to perform with Pin-Ups on Tour. How do I audition?
---
We are always looking for talented performers across America. Please email a note, photos and any videos of your act to dorightcasting@gmail.com
---
---
Frequently Asked Questions